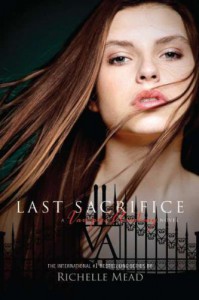 I purchased "Last Sacrifice" last night and couldn't put it down. Literally. I finished it in the wee hours of the morning, and though my eyes are gritty and I am still in my pj's, the lack of sleep was worth it. I loved this book! The whole time I was reading it I just couldn't believe that all of my questions were finally going to be answered. This conclusion to such a great series was everything I wished and hoped for. I loved being able to read as Rose and Dimitri reconnected. I've always craved more Rose and Dimitri time, and I definitely got it in this book. Yeah, it may not have been action packed and there may have been more duller moments in this book than in others, but the moments between the two of them more than make up for it. I love it when a romance between two characters causes my heart to pump faster and gives me butterflies in my stomach. Whatever other flaws you can find in the book, you can't deny that those parts of love and solidarity were incredibly sweet.
I am heart broken for Adrian. I sincerely hope that Mead writes his happy ending in her spin off series. He definitely deserves it! I started tearing up at the last scene of him and Rose. Poor guy. *sniffs*
Still stunned at who the murderer turned out to be. It makes sense, but I definitely didn't see it coming!
I love this series, and I loved this book. I will definitely be rereading it very soon!